::

Global Participation

::

This is where we link All DRUMSTRONG Events with contacts and details. We continuously update this section with Locations, Facilitator and Facility details with links to the resources, webcast and initiatives that your event will benefit.

Event times listed are local to that venue. Our Main Event at Misty Meadows Farm, 455 Providence Rd. S, Weddington, NC 28173 (near Charlotte, NC) starts Friday, May 17 at 5:30 PM Eastern Standard Time with Great entertainment on Stage and some fun Drum Circle activities (with the World's greatest Facilitators).

The Kick-Off for our 24 hour (non-stop) charity Drum Circle is Saturday, May 18 at 2:00pm till Sunday, May 19.

The DRUMSTRONG handBOOK is a good tool with customizable info for your event.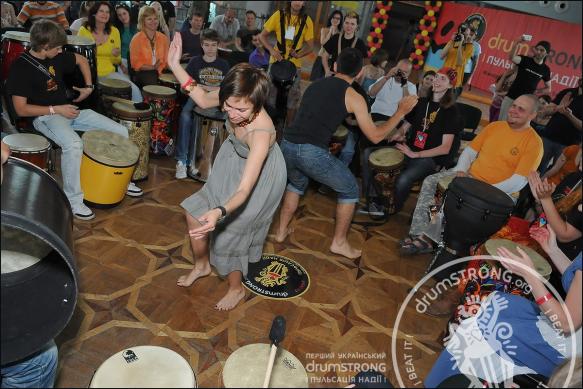 DRUMSTRONG UKRAINE :: 2011
::

Global WEBCAST Factors

::
Here's what you'll need to WEBCAST your Drum Circle to us so that we can see you and play with you at DRUMSTRONG ::
PLACE ::  A well lit place works best. You'll need electric power and high speed internet connection (dial up won't work). Hard wired internet connection will work much better than wireless.
EQUIPMENT :: A computer that can connect to the internet, a video camera that can connect to the computer (web cams will work, also some laptops have cameras built in and you can just point it at your circle). Make sure your camera also has a micro phone! (We want to hear you drumming as well as see you) or attach a microphone. A Monitor, computer or projection screen to see us.. Sometimes a TV monitor will work. Possibly speakers.
WEBCAST ::  We will set up a Ustreamtv webcast channel for you and send you specific info on the URL (the web address to send your webcast through) and instructions on "how to broadcast". Look on the Global Events page to see what we've 'named' your DRUMSTRONG event and use the city named after "DRUMSTRONG" for reference.
Extras :: A message board to hold up to the camera with your DRUMSTRONG City on the top and you can write messages to us (and the world).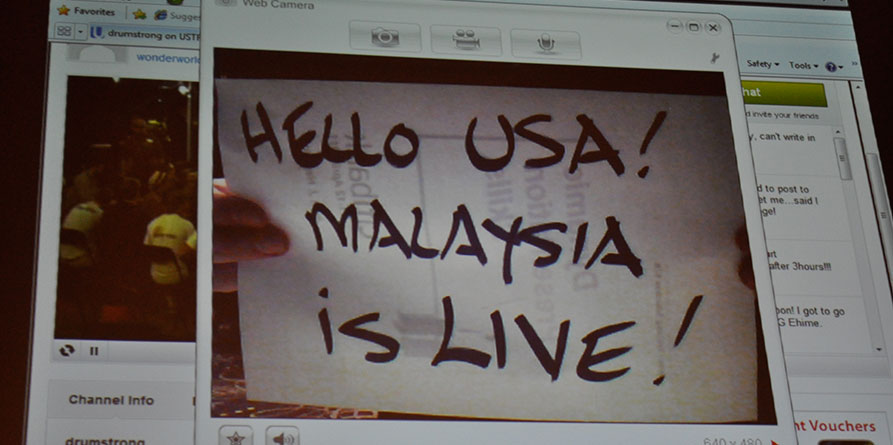 Please send scott@drumstrong.org the following info to include on the website ::
:: City, Country
:: Date/Times :: try to coordinate to play with us in Charlotte, NC :: Sat, May 18 from 2:00 pm til Sun, May 19, 2:00 pm EST
:: Venue (name, address, website & phone if appropriate)
:: Contact (name, email, phone)
:: Facilitator(s) (May be same as Contact) (name, email/phone, website)
:: Special Guests
:: Benefiting (name, website) example :: DrumsForCures www.drumstrong.org
:: Suggested Donation (optional)
:: Sponsor(s) (if any)
:: Global Webcast URL (we will provide)
:: pics/video  (from prior events or after your DS event)
DRUMSTRONG BERKLEY
:: S.F. Bay Area (Berkeley), CA USA
 :: Sat., May 18 from 4:00-5:30pm PST
:: Venue :: Ashkenaz Music & Dance Cultural Center
1317 San Pablo Ave., Berkeley CA 94702,  510-525-5054 www.ashkenaz.com
:: Contact :: Jeni Swerdlow jeni@drummm.com 510.316.2850
:: Facilitator(s) Jeni Swerdlow (+ Special guests)
:: Special Guests :: YES!!! TBA
:: Benefiting Cancer Support Community S.F. Bay Area http://www.cancersupportcommunity.net
:: Suggested Donation $10-25+
:: Sponsor(s) :: DRUMMM Rhythmic Events www.DRUMMM.com
DRUMSTRONG COLUMBIA, MO
:: Sat, May 18, 2013 - 12-1:00 entertainment, 1-3:00 non-stop drum circle, with guest artist and facilitators.  Health related cancer resource information available throughout festival.  There will also be a Children's Area to make percussion instruments.  Raffle item: Mickey Hart's Home Plate, original Drum Artwork, produced by REMO.
:: Columbia, Missouri
:: Contact :: Sally Burnley togetherwithdrumming@yahoo.com www.togetherwithdrumming.com
DRUMSTRONG L.A.
:: Los Angeles, CA, USA
:: Sat., May 18 from 1:00-3:00pm PST
:: Venue :: Remo Recreational Music Center :: RMC 7308 Coldwater Cyn Ave. NH CA 91605. 818 982-0461
:: Contact :: Dr. Susan Ashley drsusanashley@me.com
:: Facilitator(s) Mike DeMenno, Ossie Mair, Chris Rameriz, Valeska Thomas, Ann Lambert Vannoy (+ Special guests)
:: Special Guests :: YES!!! Alphonse Mouzon, Richie Gajate Garcia, and more TBA
:: Benefiting :: Cancer Support Community

:: Suggested Donation $15-25+
:: Sponsor(s) :: REMO Drum Company 
DRUMSTRONG NAIROBI
:: Friday, May 17, 2013
:: Nairobi, Kenya
:: Kisayani Primly School at Katangi Yatta Machakos County Kenya
:: Katangi Town Machakos/ Kitui Road, Machakos, P.O BOX 27785-00100. Nairobi Kenya
:: Contact Alix Kilele or Prexy Nzembi
https://www.facebook.com/pages/Kilele-Foundation-Kenya/251762634869506
DRUMSTRONG PERTH
:: Sunday, May 19, 2013 – 1pm – 6pm
:: Perth, Australia
:: Venue - Royal Park Hall – corner of Vincent St & Charles St, North Perth
:: Contact – Simon Faulkner – sfaulkner@holyoake.org.au  Cell:0427616793
Or Glenn Huxtable glenn.huxtable@gmail.com  Cell: 0413284095
:: Benefit organisation – Cancer Council of Western Australia – approved event
DRUMSTRONG ROME
Sat, 05/18/2013 – 5:30pm
suonaFORTE Roma
:: Rome, Italy
:: Venue :: Affabulazione, Piazza M.V. Agrippa 7, Ostia- Roma
:: Saturday, May 18, 9:30 pm
:: Lorenzo Rompato orenz99@gmail.com, www.circles.it, https://www.facebook.com/events/139214046256260/
:: Benefiting DrumsForCures
:: Special Guests :: Massimo Carrano, Carlo & Matteo Di Francesco, Giovanni Imparato, Raul "Cuervo" Scebba, Lucrezio De Seta
DRUMSTRONG TOKYO #1
Sunday, May 18, 2013  1:00pm – 3:00pm
:: Tokyo, Japan
:: Contact :: Noriko Mihara nonnon.mihara@nifty.com  OrangeBoomBoom
DRUMSTRONG ZHITOMIR, UKRAINE
DrumsForCures, Inc. is the 501(c)(3) non-profit charity organization that produces DRUMSTRONG events globally in support of local cancer initiatives.
D
-••

R

•-•

U

••-

M

–

S

•••

T

-

R

•-•

O

—

N

-•

G

–•